The turtle has arrived!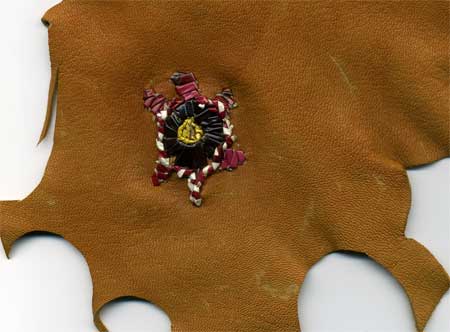 He's a bit flashier than I imagined, with the white around his shell, but that's okay. This is my first quillwork turtle (that looks like a turtle), so he should be flashy. My projects usually don't turn out exactly as drawn/imagined because I try to go with the flow. Although I drew a sketch for the turtle, I didn't outline the design on leather. I usually freehand the whole thing right there as I'm quilling. Sometimes that works and sometimes that doesn't.
I'd say it worked this time.
The turtle is done–he looks like he's going to crawl right off the leather, doesn't he?– but I still have to whip this into shape with leather tie, leather backing and quilled border. I have a few days left before the Powwow. Pressure is a wonderful thing.
While quills soak and soften, I pull together other porcupine quill pieces.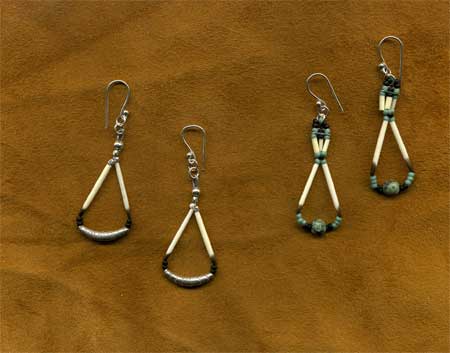 My tradition-style of porcupine quill earrings on the right; on the left are some new ones I envisioned in the middle of a bead store this past weekend. They are more stunning than they appear in the photo.
Friends and I checked out Beadnik in West Chester, PA (along with a fabulous dinner at Vincents and coffee/gelato/pastries at Sprazzo. We should have gone to Sprazzo first. Life is really too short to save incredible desserts for last).
I'm sure I've seen these silver tubes before since they're among the many silver beads made by the Karen Hills Tribe in northern Thailand. I love Tribal Hills Silver and order it whenever I have money burning a hole in my pocket. But there in the bead store, these two little tubes spoke to me.
I have visions like that in bead stores.
In fact, I often have a take a deep breath and remind myself to focus when I go into a bead store. I get very distracted by, "Wow, I could pair this bead with that bead and have and fantabulous new thing." Too many dollars later I have more beads to take up space alongside the other fantabulous beads I purchased before. This year, I'm aiming to use all those beads in projects so by year's end my bead boxes are empty and I'll have to buy new stuff. Then again, don't all of us collectors-of-inspirational-bits-n-pieces dream of burning through our stash? If only we had enough hours in the day.