I just returned from vacation on an island.
I just like to say that because it sounds like I went somewhere very exotic.
It is an exotic place in its own special way. Not exotic in the floating pool-side drinks and cabana boys style, but the opposite extreme of exotic where the cabin didn't have electricity or indoor plumbing.
There I am on the island's rocky beach bordering Lake Champlain sewing birds.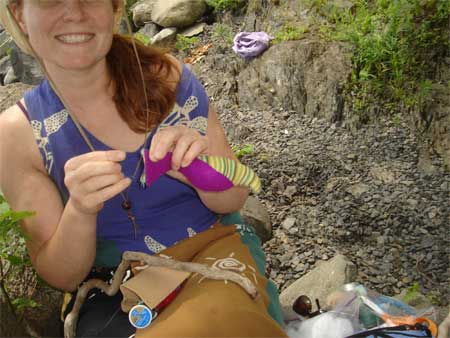 After mentioning my vacation to many different people, I realized this type of experience really is "exotic," foreign to many. I'm surprised at the number of people who have never "showered" in a basin or carried their water supply somewhere.
When you have to carry your water from a lake, then boil it before you can make coffee, do the dishes or bath, it really makes you consider energy consumption and waste in a whole new way. My dear friends who invited us to their cabin are considering different solar options for powering their cabin. I highly recommend this kind of vacation as a crash course for anyone who wants to reduce their energy consumption, go green, reduce their carbon footprint, or whatever you want to call it. Try this lifestyle for a few days, and it will make you rethink your whole household.
Surprisingly, my 5-year-old didn't complain once that she had to put shoes on and walk with a flashlight to the toilet in the middle of the night. The lack of conveniences didn't phase her when she had snakes to watch and water to splash in.
Truth be told, we did have cell phone service, which was helpful when we sent the men out a huntin' to the mainland for ice and pizza to go (it was a vacation, after all). And the kids had battery operated toys to keep them entertained while we made dinner. The whole vacation was such a blast!
Before setting out to the island with–dear me!– no internet service, we did more traditional vacationing by visiting family.
My nephew was baptized and I made him this bird mobile for a gift. Shall we say they're doves to go with the baptism theme?
No matter what kind of birds they are, they are so cute, and they're my latest crafting obsession. I downloaded the pattern from Spool Sewing blog.
So cute, so simple and a great 3-D project for beginners. Getting them to balance is tricky, but the eye hooks are key.
I've become so enamored with these birds, I want to make them for everyone. My nephew got the first flock, although I think his mother may have claimed them because she loves birds.
The cabin on the island got the second set. (This photo is not the best!)
Through 6 hours of driving, daytime kiddie naps and lakeside resting, I stuffed and sewed birds. I even got to take my sister-in-law's Janome sewing machine for a spin stitching them up. Sweeeeet machine!
On the island I found odd-shaped driftwood for the mobile.
These birds look like they're talking to each other.
I used awning fabrics and regular cotton for those birds, but was thinking of spraying them with Camp Dry so I can hang them outside.
Next I'm hoping to make a flock or two for home…one for my porch and one for my 2-year-olds' room. I've got all the time in the world right now because mentally, I'm still on vacation.