This is Wenda, modeling horse hair earrings. She made them on Sunday at Out of Our Hands during the Horse Hair Earring Class.
Wenda brought some of her beloved Opie's tail to class. She cleaned the hair ahead of time and was ready for braiding as soon as she walked in the door.
We had a great time at the class, braiding and gluing, chatting and creating. Wenda walked away with a momento of her favorite horse and can tell everyone, "I made these myself!"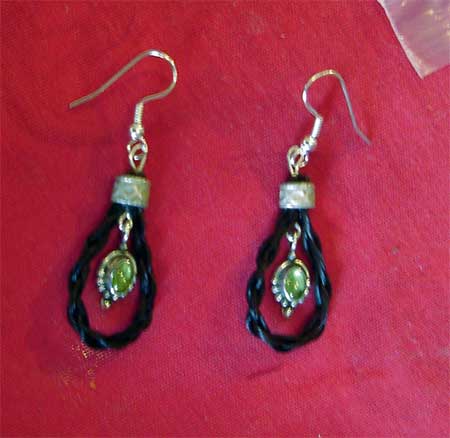 If you're interested in attending upcoming classes Horse Hair Earrings or Horse Hair Bracelets, contact me or Out of Our Hands. We're putting together dates for these two classes now. All supplies are included, but you can bring your own horse hair if you choose.
Not everyone is so crafty or has the time, so I create horse hair earrings and bracelets for others, as well. Head over to the Horse Hair Jewelry page to find out more.