There is still time to enter the Birthday Giveaway! Just a leave a comment between now and March 31, 2009, and you're automatically entered to win one of these Red-Tail Designs creations.

1. Adjustable Horse Hair Bracelet: Brown and white horse hair are braided together to create a swirled effect. Copper rings accent the bracelet and make it adjustable so it will fit any size wrist.
This horse hair bracelet is my newest product and I'm hoping to make some more of these this spring.
2. Galloping Horses Art Journal: Horses on the outside and pencils, paper and stickers on the inside. Take along art supplies where ever you go. My son and I were drawning while waiting at the DMV the other day.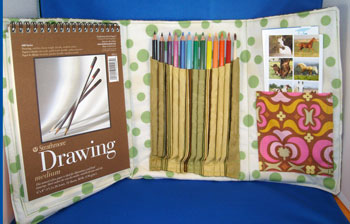 The watercolor pencils, plus a paint brush, let you scribble away or add some water to create watercolor effects. The journal closes with a leather strap and magnetic clasp.
Good luck!