Did you see that word up there in the title?
Holiday.
Really? Already?
Personally I think all the holiday hoopla shouldn't start until after Halloween. On Nov. 1 you can break out the Christmas carols and stores can heap upon us trees and sparkly ornaments and the like. But until Nov. 1, it's still fall and pumpkins and trick or treat.
On the other hand, I think about holiday gift giving year-round. I'm always shopping for the perfect gift.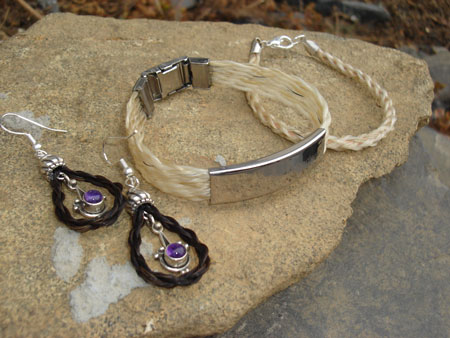 The perfect gift for the horse lover in your life is a custom horse hair bracelet! You send me the horse hair, I wash it and braid it, adding beads and sterling silver, even gold if you like. A piece of your favorite horse with you all the time.
Check the horse hair tab above to check out the different jewelry styles. If you're not able to sneak into the field and clip a bit of horse tail, I offer gift certificates for purchase in any denomination. You can also order custom jewelry without sending me horse hair and I will use the tails I have in stock. Choose from white, black, brown or any combination of the three.
Creating this jewelry by hand takes time, so keep in mind these deadlines as you contemplate which horse hair jewelry piece to buy for a friend or put on your wish list.
Horse hair must be in my hands for the order to be placed. Send your horse hair to me as soon as possible.
I prefer to have horse hair before November 24 for custom pieces.
Any horse hair arriving after November 24 will incur a $20 per piece rush fee for Christmas delivery.
All horse hair must be to me by December 1 to be made into jewelry for Christmas delivery.
Gift certificates are available any time and do not expire.
Please fill out the custom horse hair jewelry order form and mail it along with your check or money order to:
Susan Newquist
Red-Tail Designs, LLC
813 Porter St.
Easton, PA 18042
If you choose to pay with PayPal, I will invoice you when I receive your order.
Happy Halloween/Happy Thanksgiving/Merry Christmas!