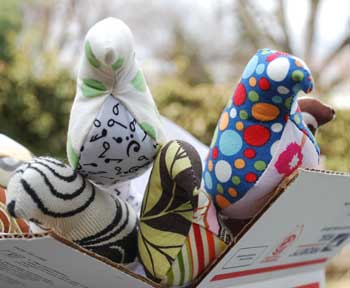 There is a woman up north, in New Hampshire to be exact, who is about to pop.
She's tall and slender, so at this point, as she patiently awaits the arrival of child #3, she probably looks like a lollipop– long, thin legs and a very round belly on top.
Her due date is not far off, which means the phone calls will start. If you've ever been pregnant and made it to your due date, you know what I'm talking about. When folks call up and say, "Did you have the baby yet?" or "How are you feeling?" Both my kids were late, so I got a lot of these phone calls. I had the urge to be sarcastic: "Yeah, I had the baby three weeks ago and just didn't tell you" or "Hey, strap on a 30 pounds cat food and tell me how you feel." But I was never that rude, even though I secretly wanted to be.
So rather than call with inane questions, I decided to send her a box of birds. She loves these birds (as do I!). I sewed up all colors and patterns, stuck 'em in a box and mailed them north. Hopefully a box of birds will bring a little sanctuary to the days of waiting for baby while chasing around two other little ones.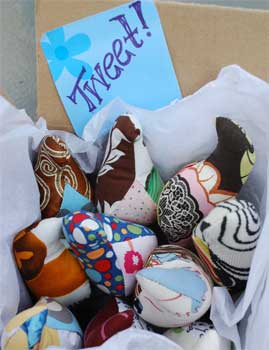 Who would you send a box of birds to?
But wait…there's more for me to give away! That's right, it's April 1, and I have some prizes to give away from the March Happy Birthday Giveaway!
Thanks to all who left comments over the last month. I wish I could send all of you prizes! But the random number generator picked #2 and #12. The lucky winners are…
Gina will be getting the adjustable horse hair bracelet and…
Kristi will get the art journal.
Congrats, ladies. Your prizes will be in the mail shortly!