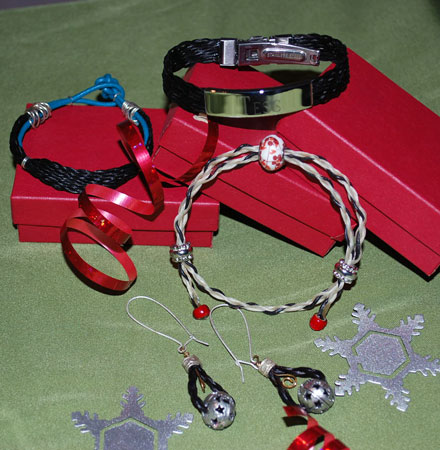 I just sent out four custom pieces, and a few of them were Christmas gifts.
Have you ordered your horse hair jewelry for Christmas or Hanukkah gifts?
Remember, only a few more days to get your horse hair to me to make custom jewelry for that horse lover in your life or even you (you deserve it, right?).
Sneak out to the field and snip a bunch of hair from the underside of the tail as big around as your pinkie, put a rubberband on it and mail it to me at:
Susan Newquist
Red-Tail Designs, LLC
813 Porter St.
Easton, PA 18042
Get it to me by December 1, and I'll send back a unique holiday gift in time for Christmas.
Keep in mind that all pieces ordered after Nov. 24 will incur a $20 per item rush fee.
Can't sneak out to the field in the time? Give a gift certificate for any denomination!