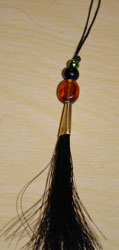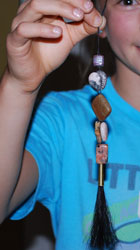 30 horse lovers + beads + cones = lots of horse hair tassels.
Tuesday night I introduced the Timbertalk Trotters to the art of horse hair tassels. This Montgomery County 4-H horse club has members from 8 to 19 years old and all of them had a blast making tassles. Even the moms joined in.
Some people brought their own horse hair and a few donated mane hair, which makes soft, fluffy tassels. I set them loose on a box of beads and the kids turned ordinary tassels into one-of-a-kind pieces of personal art.
Three of the members of this 4-H group are proud owners of Red-Tail Designs Horse Hair Jewelry. One just received her horse hair bracelet with name plate in June as a high school graduation gift from her mom.
My budding horse lover came along to help me teach and to get a glimpse of 4-H. She begged me the whole way home to join. I see 4-H meetings in my future.
If your 4-H club, Girl Scout troop, Boy Scout troop or other group would like to learn horse hair tassel making, contact me.