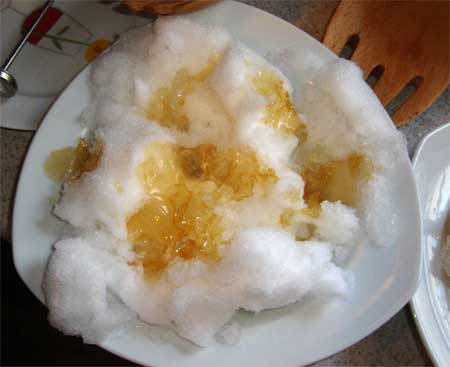 I just returned from the north, visiting my sister-in-law Kris and her family in New Hampshire.
As a fellow stay-at-home who is nursing babies and fledging business, we spent a lot of time talking about balancing family life and trying to be an adult with goals and accomplishments. The conclusion from the weekend can be summed up rather simply. Raising babies and raising a business are very similar: both are hard but rewarding, and with both you never seem to have the time to do everything you want to do.
It snowed about 10 inches while we were in New Hampshire. This is real snow, not the snow-sleet-rain stuff (affectionately referred to as a "wintry mix" by the Weather Channel) we so often get here in Pennsylvania. Nothing worse than having a "snow day" only to find no snow on the ground but an awful lot of slush or ice.
All this snow inspired a Little House on the Prairie moment as I decided to try my hand at making Sugar on Snow. This ultra-simple yumminess entails pouring boiling maple syrup over fresh snow so it hardens quickly into a taffy-like candy. If you like maple syrup as much as I do, you have to try this. The only thing better than this is slurping the syrup right out of the jug (please note: not something I've done, but something I've contemplated when clearing the table after pancakes).
I searched the Internet and found many Vermonters happy to share directions, not that you really need a recipe for this. Vermont Living provides specifics about the best temperature for optimum candy-making.
With only a meat thermometer reading to temps of 220°F at my disposal (above 230°F is the best boiling temp for the syrup), I winged it. Here are Sue's direction for making Sugar On Snow.
1. Pack some fresh snow into a bowl. Salad tongs make good snow scoopers


2. Bring the maple syrup to a rolling boil, to the point where you fear it's going to boil over.
I began with about 1 inch of syrup in the bottom of the pot and it boiled all the way up the sides. The picture to the left shows a good boil. The picture on the right shows the syrup that hasn't reach a good boil yet. But never fear: if you don't let it boil enough it just melts the snow instead of hardening and you end up with a maple syrup snow cone, which is darn good, too. You'll know it's not hot enough when it looks like some animal did its business in your snow.
3. Without stirring, pour maple syrup over the snow directly from the pot. I scooped out the last dregs with a wooden spoon.
4.Wait a few seconds for it to harden, then dig in. Yuuuuuummy!
Eat it right off the snow. Don't serve it on a plate like I did here (right), because it melts onto the plate into a gooey mess if you don't eat it fast enough.
I did try the Vermont tradition of eating a sour pickle after eating some maple taffy. Although this tastes much better than it sounds, it's not something I need to do again.
There's no reason we folks here in Pennsylvania can't make sugar on snow. In fact, you can use shaved ice rather than snow. Pollution is an issue for me, however. I live in the city so the rock salt seems to get everywhere. It pains me to tell my kids not to eat the snow here, but alas, they eat the vast snowcones that are grandparents' backyards.
In addition to satisfying a sweet tooth, I also got to satisfy a long-standing Little House on the Prairie fantasy. Laura Ingalls Wilder details the sugar on snow party in Little House in the Big Woods book. As a young girl with long braids, I too, wanted to be Laura Ingalls, or more specifically, Melissa Gilbert as Laura Ingalls on the TV show. I wished for the bonnet and petticoats and lace-up boots. I wanted to tumble down a hill of wildflowers like Carrie in the TV show introduction. So finally my wish has come true to live like Laura and experience a little colonial life. And I didn't even have to put up with Nellie to do it.