Anyone who knows me, knows I have a love-hate relationship with technology. I love it when it works, I hate it when it doesn't work.
And for me … it doesn't work often.
In fact, I possess a rare anti-technology aura that causes computers to seize up, sputter and spit at my mere presence. How I ended up marrying a web guy is beyond me (yin and yang?), but that's another story.
Yesterday my anti-technology aura was at warp speed. I won't go into the gory details, but eventually I abandoned my computer tasks in lieu of making pumpkin chains with my little guy.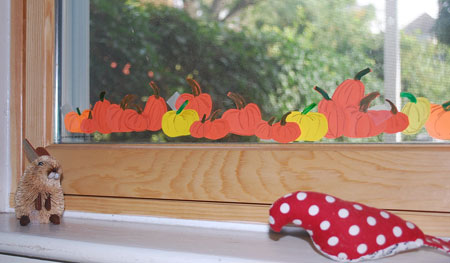 I've been thinking about making them all month, but PTA meetings and managing homework, driving to soccer practice and more mundane tasks like painting the porch and laundry got in the way. Basically, creativity seems to take a back seat to the everyday tasks required to maintain the status quo.
Once I started cutting, coloring and taping, I couldn't stop. My little helper and I have added pumpkin patches to nearly every window in our house.
My technology time-out made me realize how much I've missed creating over the past few months, how much I missed making goofy projects with my kids. Creativity is the antidote to my hyper-organization gene and my family might tell you I can back off from the organization right now.
As the season changes to fall, hopefully my creative hiatus will also morph into a creative time spilling over with new, fun projects (it can get messy here!), and you'll see that here in my blog. (Unless my anti-technology aura obliterates it.)