It was a whacky day, a whacky day, indeed,
As we celebrated the 6 years of life of our little prodigy.
A birthday, yes, a birthday for a girl learning to read,
Who discovered the magic of Dr. Seuss's rhyming scheme.
So her Momma decide this day could not be ordinary,
But needed flair and fun and something quite extraordinary.
While papa sat reading Happy Birthday To You! at the family breakfast table,
Momma was in the kitchen baking waffles and getting syrup of the maple.
And while Papa read these silly, funny words of the Seuss,
Momma was preparing a cake quite obtuse.
Because a Seuss-ish celebration deserved more than a cake,
It deserved a whacky, wonderful waffle cake
That only a whacky wonderful Momma could make.
Okay, enough rhyming already!
Yes, it was birthday time at the Newquist household..yet again. We'd been celebrating since Sunday with dinners and gifts. My 6-year-old, who is learning how to read, has taken a liking to Dr. Seuss, so I thought a Seuss-ish celebration in order.
The best part was the Whacky Waffle cake I conceived–not well, I might add, because it kept falling over. But no one cared. It was made with frozen waffles (cooked, of course), whipped cream (from a can!), plus strawberries and pomegranates.
My read husband his childhood copy of  Happy Birthday To You! by Dr. Seuss.
The Great Birthday Bird came by…
And delivered a few gifts, such as a new pet. We didn't have time to go to the Official Katroo Birthday Pet Reservation. Plus, with dogs and cats and fish and turtles, I really didn't think we had the room to house a pet from the Katroo Birthday Pet Reservation, not the smallest nor the tallest. So instead we went for a new Littlest Pet Shop horse.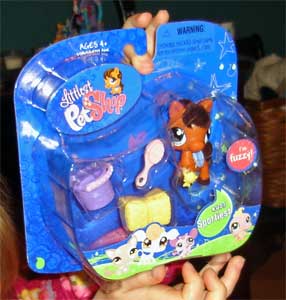 We didn't make it through the whole story because the cake kept falling over and the kids really just wanted the whipped cream out of the can (I never buy that).
My 6-year-old thought the Seuss theme, plus her own digital camera (which is now making a living record of our lives) made it the "Best birthday ever!"
Honestly, though, I can probably save myself a lot of time and effort next year by giving her some gifts and a spray can of whipped cream to eat on everything!
Whacky Waffle Cake
Ingredients:
20 frozen waffles (yes, frozen. Save yourself the trouble of making them.)
4-8 wooden skewers
1 can whipped cream
fruit, such a s strawberries, blueberries or bananas (as garnish and to claim this breakfast is actually nutritious)
Directions:
Bake waffles according to package directions.
Stack a few waffles haphazardly.
Plunge in wooden skewers in different directions.
Pile fruit on top of waffles.
Slide more waffles onto skewers haphazardly.
Embellish with more whipped cream than necessary.
Quick! To the table! Before it falls over! Don't impale yourself on skewers trying to save the cake. Better yet, trim the skewers if you have time.
Watch the whole thing topple over.
Eat off the table with hands like heathens (more whipped cream, of course)
Serves: A bunch o' whacky waffle eaters from Katroo or Easton or Macungie.
*****And remember: Just a few more days for you to leave a comment to be entered to win prizes from Red-Tail Designs!*****