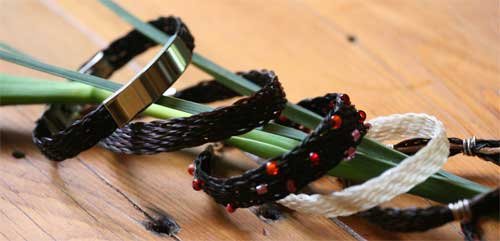 Horse Hair Jewelry
Go to my Etsy shop at www.redtaildesigns.etsy.com to see the horse hair bracelets and earrings in stock that you can buy today.
Custom Horse Hair Styles
I can create a custom piece of jewelry using your horse's tail or mane (tail is preferred). Below are the various styles I offer at this time, each one named after a horse I've known. I do take requests and modifications to these styles. In the future I plan to offer horse hair necklaces and rings, as well.
Mane hair can be used but it takes much more care and time to clean and braid. Therefore, mane hair will incur an additional $20 fee. A new style of bracelet using shorter mane hair will be posted in the future.
Prices listed are subject to change based on the current gold and silver markets. Please contact me if you are interested in having a piece created with your horses hair so we can arrange payment and delivery of the horse hair. Gift certificates are also available if you want to give this special gift to a horse lover.
This PDF includes all the styles listed below, instructions for collecting and shipping horse hair, plus an order form.
Garden Gala         $51- $68

Garden Gala was the matriarch of the horse farm I worked at and this is the mother of all my horse hair bracelets, the first style I created. This is a flat braid made from 12 horse hair pulls.
Choose from three sterling silver closures.
A. Flat braid with sterling silver hook and loop closure. $51
B. Flat braid with sterling silver lobster closure. $58
C. Flat braid with sterling silver rectangular closure. $68
Beads can be added to this bracelet for an additional $15. Be sure to specify the color you would like.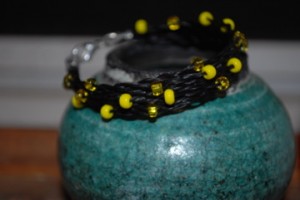 Rapitorial        $95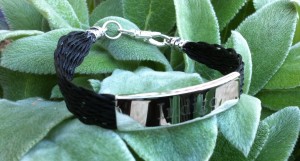 Shiny and black. That defined Rapitorial, a gorgeous mare from Florida. She taught me a lot about securely closing gates.
It seems only appropriate her namesake should have a shiny, stainless steel ID plaque and very secure lobster clasp.
Available with 1 1/2″ by 7/16″ wide plaque, engraveable on both sides.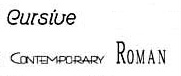 The price of the bracelet includes up to 5 words engraved on the nameplate; $4 for each additional word. Unlimited words; the type is smaller to accommodate more words. Choose from: Roman, Contemporary or Cursive fonts.
Maxatawny        $82
Granddaughter of Garden Gala, Maxatawny was another mother of many on the farm where I worked. This bracelet combines many of my favorite materials: sterling silver, leather and horse hair.
The 12-strand flat braid envelops Greek leather with sterling silver wire wraps. Wear the horse hair side out for a refined look or wear the leather side out for a rustic look, which is my favorite.
Leather Chinese knot slides through loop for closure.

Leap Year         $70
Leap Year is one big white horse and when my then 2-year-old daughter sat on him, she looked tiny. He, of course, was an angel and she was smiling ear to ear. Leap Year was the first real horse she rode that wasn't a $5 pony ride at the fair. My daughter still talks about that horse and wants to go back to ride him again.
His namesake bracelet is a round braid of horse hair, plaited around a leather core.
Sterling silver lobster clasp.

KC Adjustable           $43

Taking riding lessons with KC has taught me to adjust my attitude from passive pleasure rider to active participant,  working with the horse.
And so comes the adjustable bracelet. Not sure of the size of your friend? This is the perfect gift. Plus the center and end beads can skew masculine or feminine, depending on who it's for.  Let me know what color you'd like and I'll pick the appropriate beads for your bracelet.
Daisy         $67
These earrings are named after a sweet little paint named Daisy. She's a little bit of brown and a little bit of white.
These earrings are a bit of this and that, too: a little bit of glossy horse hair, a little bit of shiny sterling and gemstones.
Pick from a gemstone dangle: chalcedony (shown), turquoise, garnet, citrine or peridot. Or send me your favorite pair of beads to include.
Choose from fishhook ear wires (shown) or lever  back earrings.
Click here to get more information about shipping fees, payment options and other commonly asked questions.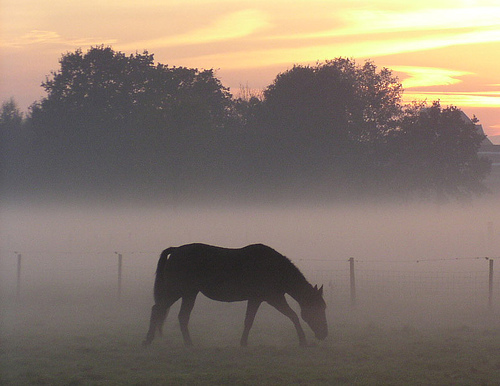 Horse Hair Jewelry Care

Remove horse hair jewelry before swimming or showering. Occasionally a piece of horse hair will work its way out of the braid. Use a nail clippers to trim it off close to the braid. DO NOT use a scissors as you may accidentally snip through the bracelet.
Directions for Harvesting Horse Hair
Do not cut hair from a horse that has a very short or thin tail. Only cut hair if you can get strands that are a minimum of 14 inches long for a bracelet and 10 inches long for earrings, although longer is better.
Hold up the tail so you can see the shaft and trim hair from the underside so the cuts won't be visible. Cut one or two small locks from various places on the underside of the tail to make a clump of hair about the width of your finger. Secure the shock of hair with a rubber band and place it in a zipper lock bag. I clean the hair before I begin braiding the bracelet.
——————————————————————————————————————————————————————————
More about Horse Hair
The durable nature of horse hair led to its use worldwide. Swiss Army blankets and the dining room chairs of royalty are woven with horse hair because it makes them super strong. Some of you with older homes made of plaster and lathe have horse hair in your walls. Cowboys made decorative belts, cattle-roping lassos and other horse tack. Native American Indians knew of its power, using it to adorning war shirts and headdresses.
I create jewelry using horse hair. Each bracelet starts out as individual strands snipped from a horse's tail. After being washed and dried, 15 to 20 strands are rolled together into a single "pull. " Then I weave 4 to12 pulls into a flat or round braid and finish them into earrings or bracelets.
Celebrate the inspiring freedom of nature's most gallant creature with a one-of-a-kind horse hair jewelry. To purchase a piece of horse hair jewelry, consult my Etsy shop for available pieces.