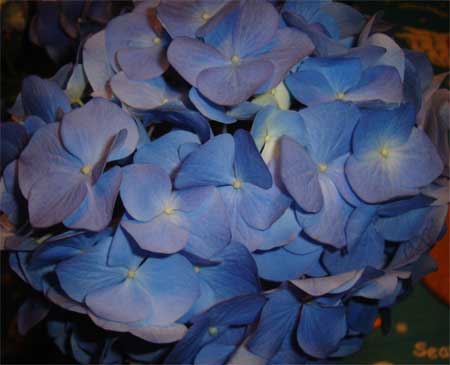 Seems I've been tagged by Kris at Monkeyfoot Designs to answer some questions about blogging.
Somehow, this reminds me of taking a Cosmo quiz in high school. I did try to wiggle out of it by claiming a rarely cited rule about not being able to answer questions if you have less than 5 blog entires, but alas, that did not work. So here it goes. (I included a few fun spring photos in case you get tired of all the words:))
1. Why did you start blogging?
I started blogging for a few reasons: 1) I've been looking for new and different ways to expand my business 2) I was hoping to find a way to stay motivated and 3) planning to get myself on a regular work schedule. As I was rethinking/redesigning my web site, a blog seemed a good way to accomplish many of these things all at the same time. Plus I had a lot of familial influence, with my husband and his sister being bloggers.

2. How did you come up with your blog name?
My blog name is the same as my business name, which was inspired by a red-tailed hawk. For many years I have been involved in wildlife rehabilitation and education. I was training a red-tailed hawk for use in education programs, and often wondered what the hawk thought about me in its life. For days I pondered this and then it occurred to me that this red-tail probably called me a red-tail. I have red hair and usually wore it in a pony-tail when working with the bird, so I sported my own "red tail" on a regular basis. It seemed an obvious name for my company.
3. Do your friends and family know about your blog? What do they think of it?
My husband helped me design my blog and most of my friends and family know of my blog. About half of those people look at me kinda funny like, "a what? a log? a smog? a frog?"
4. How do you write posts?
Being trained as a journalists, I write my posts like one. I write stream of consciousness, then go back and edit and make it a story with beginning, middle, and end. It will be interesting to see if that changes over time.
5. Have you ever had a troll or had to delete comments?
Thankfully, no.
6. Do you check your stats? Do you care how many people read your blog? If you do care, how to you increase traffic?
I do check my stats. I find it interesting to see how people get to my site, what words they search to get there.
7. What kind of blogs/posts interest you?
Right now I read many sewing and crafting blogs. I like seeing how people put together materials that wouldn't normally be associated with each other. That inspires me to try different things.
8. What do you like and dislike about blogging?
I like how people can connect and get fabulous new ideas from blogging. I don't like that I don't have enough time to do it as often as I'd like and that my pictures are as fabulous as I'd like them to be.
All done! I am going to tag Melody, Hedge, and Ken to continue the Cosmo Quiz blog questions. While they're doing that I'll be off to tackle my pile of birthday goodies I got this week. Lots of old issues of Mary Jane's Farm and a new book called Doodle Stitching. Can't wait to see what they inspire next!