I am so excited to announce that I will be running the Horse Hair Earrings  Jewelry-Making Class at My Father's Beads inn Coopersburg, PA!
Join me on November 1, 2009, from 1:30 to 4:30 as we create a stunning pair of earrings using horse hair, plus beads and baubles from My Father's Beads. The class costs just $38 plus supplies and you can choose from a variety of earwires, beads, cones and charms to include in the earrings. To signup, go to My Father's Beads Website or call the store at 610-282-6939.
I can't wait to see what everyone comes up with. With a whole store full of beads to choose from, every pair of earrings will be completely different. This time, I have to take pictures. (I forgot last time).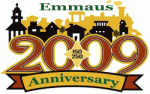 Also coming up this weekend…I'll be demosntrating quillwork at Wildlands Conservancy as part of Emmaus, Pennsylvania's 250th anniversary celebration. Stop on by and say hi!