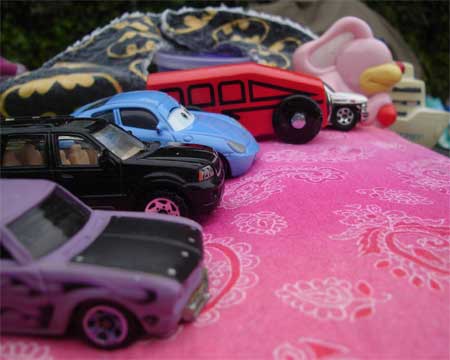 Gas is $3.85 a gallon and I just spent a half hour driving around in the middle of the night trying to get my one-year-old to sleep. Had it worked, I'd be asleep right now. Instead, I'm writing this post.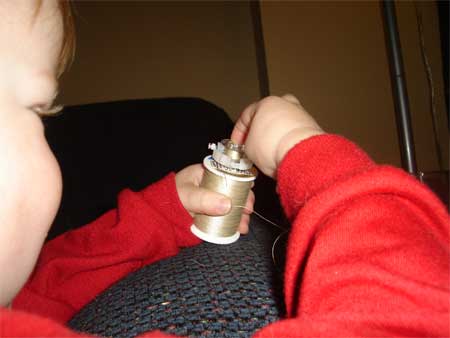 The little bugger (that's the one in question, stealing my bobbins) has hardly slept in 3 days. I'm guessing he has an ear infection or a nasty case of teething. These revelations never come to you during the hours of 9 – 5 when you can actually do something about them. They don't come when you can call someone: your mom, a friend, the doctor. Instead at 2:30 a.m. I realized he wasn't just being a pain in the butt, he was likely not feeling well. Or feeling worse than I thought.
I have never driven my kids around in the middle of the night to make them sleep, even though it's been suggested. But I was at a loss and the neighbors are probably tired of hearing his wailing. So off we went. At 2:30 a.m. In the car.
Despite the earlier humidity, it was cool outside.
Off we went in search of sleep. Up the hill, down the otherside. In my sleepy state I chose a route with the least amount of stop signs, maximum amount of rolling hills and straight shots. I was sure he'd be out in 5 minutes. Nope. Too much to see at 2:33 a.m. Three cars, a big rig and a bicyclist (yes a bicyclist, but he/she was wearing reflective clothing!).
I watched his face in the rearview mirror as we passed street lights, trying to assess his nearness to sleep. At mile 10.3 I thought I saw him nodding off. Instead he sang a few bars of a made-up ditty, likely to keep him awake so he could see the big trucks on the highway.
Gas is $3.85 a gallon and I drove 20.7 miles and the kid didn't fall asleep. This is having kids. When we returned home, he emptied my purse of cars and is playing with them now instead of sleeping.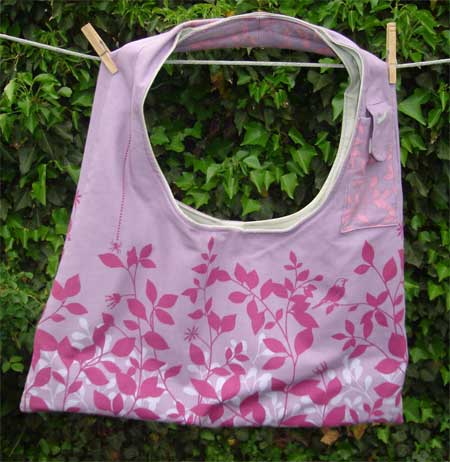 A while back, Melody tagged me to see what I carry around in that behemoth of a bag I tote around. I cried, "No tagbacks!" something I haven't said since second grade. But alas, I was still tagged. (Honestly, I don't get this online tagging thing). I guess what's in your purse reveals something about your personality.
I'd like to say I carry around a tiny little clutch with driver's license, credit card, $100 and a funny, intelligent read. Not so. Instead, my purse is more like a flea market/used car lot.
So here goes.
First the bag above is a circa 2007 made by my sister-in-law Kris from Etsuko Furuya fabric from the Amy Butler Nappy Bag pattern. Note the all-important cellphone pocket on one shoulder and cute spider on the other.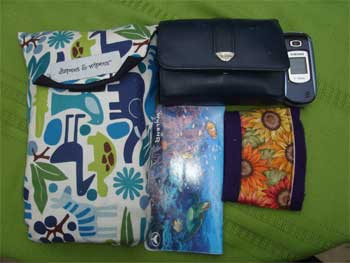 It's so huge, I joke that one day I'll look in there and find a frozen turkey I forgot from weeks ago.
The essentials that go in any bag: wallet, cell phone, check book, diapers and wipes and coffee cuff for emergency coffee stops.
The kids stuff: artist book, crayons, Batman bib, snack cups,lots of cars,. Sad will be the day when giving my 1-year-old won't solve every problem.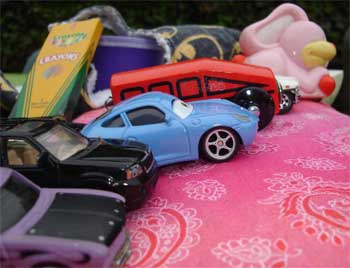 Other stuff that keeps me ticking: lip gloss, business cards and that lady with the funny nose that keeps me amused.
Plus the all important collection of paper junk: paint sample I want to match curtains to; Ninja girls fabric I want to buy more of; one of many to-do lists; myriad of coupons.
Missing on picture day was my every-important day planner that contains about 16 to-do lists. I think it was giving a lecture at a local college on time management that day.
Since I began to write this post, I've rescued 3 Matchbox Cars from my 1-year-olds pajamas, he has (funnily enough) emptied my purse completely and he's now compemplating banging really loudly on the Barbie piano. Time to exit the highway and go to bed. Hopefully.