About 6 inches on the ground. A day off from school. Here's what we made of the snow day Monday.
Left to her own devices my daughter comes up with the cutest stuff, like this spring chick. I'm encouraging more glue useage instead of taping everything. "Look, the beak opens and the wings move," she said.
A few artist books done. Experimenting with pencil pockets of different shapes. The red flowers on white background  (journal at bottom of photo) were snipped from a shirt my daughter outgrew years ago, but the shirt was to worn out to pass on to cousins.
Steamy cups of homemade hot chocolate after throwing snow balls, shoveling sidewalks and playing with snowy dogs.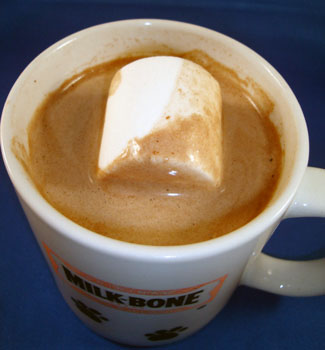 Books read when we piled into bed for an afternoon snuggle. The kids were given a one time only offer: eat Smarties in mom's bed while she read to them. I was sipping a vanilla chai.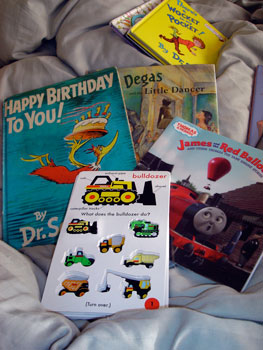 "Asparagus Eggs" (as we call it), our favorite Martha Stewart recipe. Delicious, nutritious dinner in a flash.
Snow days are such a pleasant treat!
*****UPDATE******
For those of you who couldn't see the link to the Martha Stewart recipe, here it is, from the May/June 2003 Everyday Food magazine
Egg and Toast Ideas
Serves 4
1/2 tablespoon softened butter
4 slices (1 inch thick) hearty white bread
4 large eggs
Salt and pepper
TOPPING IDEAS
Asparagus, Fontina, and Dijon Mustard: Divide 4 teaspoons Dijon mustard, 8 stalks blanched asparagus, cut into 1-inch lengths, and 1 1/2 cups grated fontina cheese among toasts.
Ham and Gruyere: Divide 4 ounces thinly sliced ham and 1 1/2 cups grated Gruyere cheese among toasts.
Tomato, Cheddar, and Canadian Bacon: Divide 2 chopped plum tomatoes, 4 ounces diced Canadian bacon, and 1 1/2 cups grated cheddar cheese among toasts.
Directions
Preheat oven to 425 degrees. Spread 1/2 tablespoon softened butter over one side of each of 4 slices (1 inch thick) hearty white bread. Place each piece of bread, buttered side down, on a baking sheet.

Using your fingers, create a well in the center of the bread, being careful not to tear it.

Break 1 large egg into each well, keeping the yolk intact; cover bread with desired topping, and sprinkle with salt and pepper.

Bake until the cheese has melted and the egg is set but slightly runny when pierced with the tip of a paring knife, 15 to 20 minutes. Check the toasts frequently because eggs set quickly.