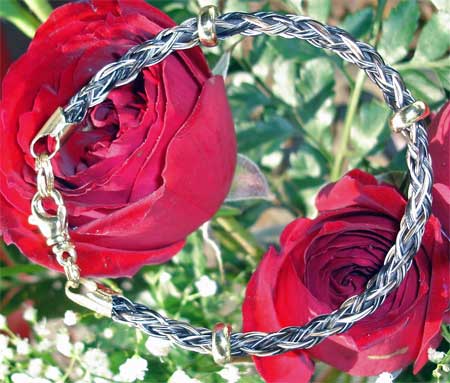 It's been a busy week here at Red-Tail Designs HQ.
I finished the bracelet for my customer in Kentucky. As you can see above, it turned out looking more black than gray. I sent it out last week and by now she should be enjoying a remembrance of her horse. The 14 karat gold clasp and beads give it a bit of a glow.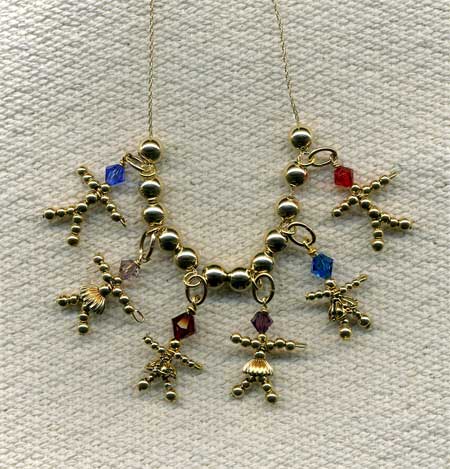 Also finished up a project for a neighbor who wanted me to create birthstone babies that matched the ones she already had. The store where she'd purchased the first 4 charms had gone out of business. With a growing brood of grandchildren, she wanted to add two more to her collection and turn her pin into a necklace.
Coffee cuffs were also on the menu this week. I experimented with some new "boy fabrics" (as I like to call them) and then restocked the local coffee shop, Cosmic Cup Coffee Co. It's tough to find interesting fabrics for men. There's some cute stuff for boys and sports fabrics are often a hit with men, although so far this year I can't find any of the baseball team fabrics in cotton. I wanted to make a Mets cuff for my husband, but all I can find is fleece. Beyond sports themes, it's often hard to find fabrics that are expressive of men that aren't so uptight.
Skull and crossbones is a good solution. The owner of the Cosmic Cup liked his personal cuff I made for him.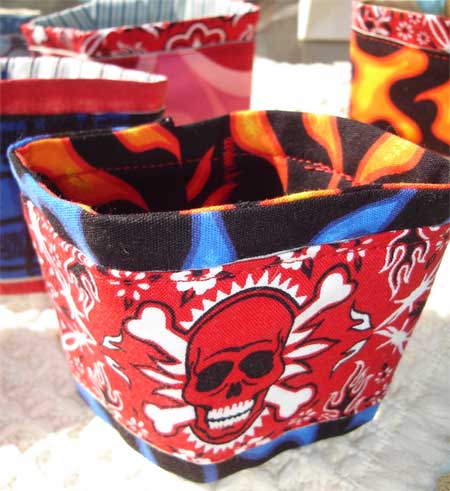 He's a supported of the subversive culture who gets a kick out of pirates.
This little dog in the tea cup also cracks me up.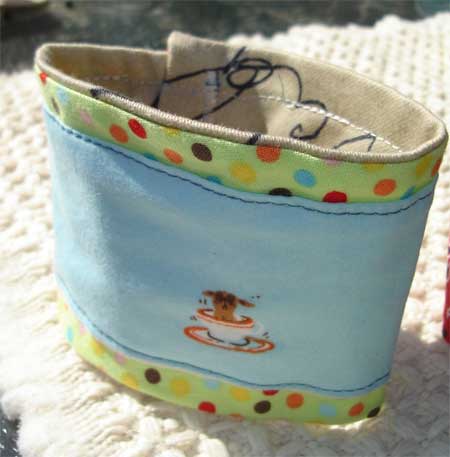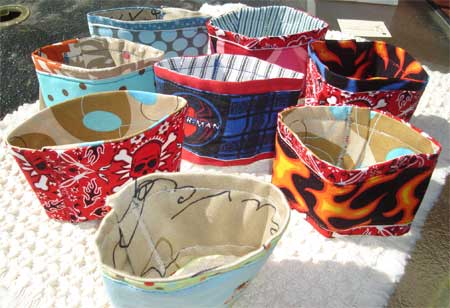 I was a little more successful in finding fabrics for a new baby boy. He doesn't seem like the pirate type, so I stuck with the sports theme.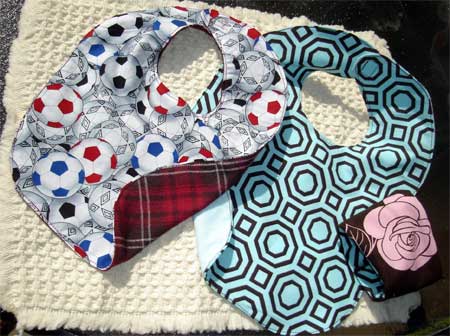 I even made a bib that matches the coffee cuff I made for his mom. She can turn the roses inside out to reveal the same fabric as the bib. I've been working on putting a completely different type of fabric on the inside of the cuffs so you can two looks for the price of one.

All of these projects came in the midst of planning a princess birthday party for my now 5-year-old. I had the partygoers make regular Barbie dresses into princess-wear for their Barbies. With jewels, fabric and glitter glue at their disposal, the little princesses proceeded to load the dresses mostly with glitter. When I later found glitter glue on the toilet seat, I declared the party a success.
Just when I thought I'd catch a break from the all the parties, I realized I need presents for two parties coming up this weekend.
My latest gift for kids is an artist book with space for tablet, colored pencils and stickers.



I have the fabrics cut, but still have to sew. Pretty easy until I get to sewing the pocket for the colored pencils. That takes a little time.