I just had the best Mother's Day ever.
No flowers or candy involved. No breakfast in bed (even though a little one said she was going to). No gifts at all. Okay, so I did get a little bag my wee one made a preschool, filled with very fragrant potpourri and a badge. But nothing store bought.
And yet, it was the best mother's day…
Reason #1: The WHOLE family slept til 9 a.m. That's right, we ALL slept through the night and until 9 a.m. If you have kids, you know what an accomplishment this is. If you don't have kids…well…I won't hold it against you that you can sleep 'til 9 a.m. every Sunday.
Reason #2: Laid back friends. Yes we awoke at 9, but we had friends coming at 10 a.m. to go canoeing. One hour to: dress four of us, make breakfast for four, get "I fell into the water clothes," find paddles and life vests, put canoe on car. Sure.
We got most of it done, except for the canoe on car. My canoe hasn't seen water in many years (last permit expired in 2002) so I couldn't even remember how to get it on the car.
Luckily my friends and their boys roll with the punches. We got canoe on car with not damage to our car, no damage to any neighbors cars (we live VERY close to other people) and hopefully no embarrassing video on YouTube (very close to people with video cameras to tape their schmo neighbors doing something stupid).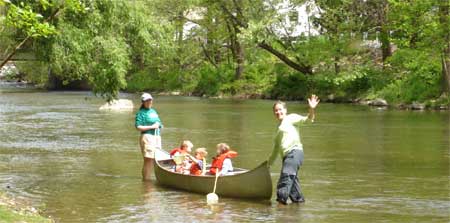 Reason #3: Goofing on the river. Nets, buckets, canoe. Throwing rocks. Watching ducks. Trying to catch fish smaller than my fingernail with a butterfly net. Shuttling kids up and down the river on their first-ever canoe rides.
Reason #4: Leaving the vestiages of society behind. I was so excited to go canoeing I forgot my mongo bag with wallet, cell phone, day planner, etc. All I had in my pocket was my keys, 2 clothespins and a twist tie.
Reason #5: Lunch on the fly. I scrounged up a credit card between us adults and headed to a local store to pick up lunch. No planning or cooking. No thinking about nutritional balance and who likes what. Just hoagies and macaroni salad. Yum!
Reason #6: Coming home to a clean house. My husband's gift to me was cleaning the whole house on Saturday. So when I returned to the homestead after a rough day on the water, I had nothing to do but relax and put up my raisin-wrinkled toes.
Best Mother's Day ever.