Good ol' Earth Day is coming up next week (April 22, same day as the PA primaries, but we won't go there). I still occasionally wear a ratty old sweatshirt from college that says "Earth Day every day." Fraying sleeves and practically see-through fabric…it's finally worn to perfection! Wouldn't throwing it out be a real slam in the face of its message?
What strikes me this year, though, is how prevalent Earth Day and its message are among the mass media and major retailers. Everywhere I turn there's a mention of Earth Day. Has Earth Day made it beyond a celebration in school where kids turn garbage into an art project?
Part of me is happy the message is getting out there. Part of me thinks they're missing the point. Take for, example, the T-shirts made from recycled soda bottles: The ad says "If every shopper purchased one recycled T-shirt, we could keep 21,000 tons of plastic waste out of landfills." Great, except rampant consumerism–buying a T-shirt just to say you have a T-shirt made of soda bottles–doesn't reduce anything. If you go to the store in search of T-shirts because your summer wardrobe is lacking, then shell out those pennies (especially for the one that says, "I recycled a soda bottle and all I got was this T-shirt." I think it's funny).
I will now leave my little soapbox and show you some things I've done around here in the spirit of the "re-"s:
Reuse: I finally got around to using my "new" sewing machine. This 1941 Singer is a family heirloom, coming from my husband's grandparents some 5 years ago. It's like a dream they way it moves across the fabric. I can see why people seek out old belt-driven machines.
In front of the machine are my fish. I used the bib pattern from Bend the Rules Sewing and realized the cutout for the neck looked like a fish. Some are stuff with polyfill. Melody suggested I stuff some with flax seed and lavender, then put them in the freezer at the ready ice injuries.
Reduce: Baby towels into plate covers. How annoying is it do work twice? Such was the way of using serving platters in my house: wash them after I use them, then wash them before the next turkey/hors devours/fancy dessert because they collected a lot of dust atop the fridge. I contemplated buying pillow cases for them. But, since my babies have outgrown the towels (so sad), I sewed the towels to fit the plates. Cost to me: $0.
Recycle: Electric toothbrush into toy scrubber. When a kid multiple times asks for a My Little Pony electric toothbrush for Christmas, can you really say no? Even when the heads on the toothbrushes are not replaceable? No cavities won out over environmental conscience and Santa delivered. Now that the bristles have gone their separate ways, I put the toothbrush into service outside, where my super-teeth-brusher can use it on to clean her toys when they get dirty. She loves it.
Revive: On Saturday, April 19, my family helped clean up the Bushkill Creek as part of the "Great PA Cleanup." This initiative runs April 19 through May 3. Other states are holding Earth Day activities through the week, too.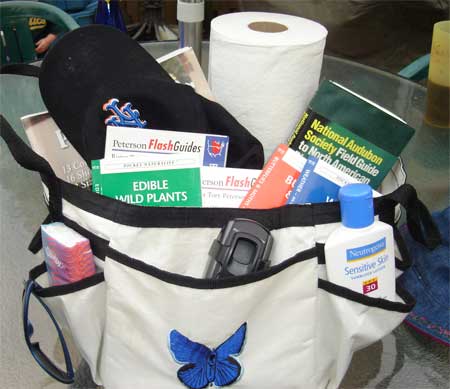 Repurpose: Gardening bag is now an enjoy-my-summer bag. Yes, my kitchen is only 10 steps from the patio, where we practically live all summer. But after running in and out 50 times for sunscreen, the ringing phone, a water bottle, etc., I got smart. I stock the bag with water bottles for all each morning and take the whole kit and caboodle 10 steps outside so I can actually sit and enjoy the magazine in the bag. New addition to my bag this year: ID guides for my little explorers who want to know what kind of bug that is.
Reinvent: Chandelier to ???? I thought this chandelier too pretty to live out the rest of its life in a landfill and carted it home, where it has been on my patio all winter. I think the little knobs and tubes may have at one time shuttled gas through it, but it's been fitted with electrical wiring and bulb sockets. Check out that fringe. It's all metal.
Four of the six stained glass panels are missing, but the two that are intact are a swirly golden color and curve along the chandelier.
The only use I've come up for this lost soul: flip it upside down, stick it in the ground, place a wide, shallow pan on top and make it a rather elegant bird feed or bird bath.
Any ideas what you would recycle/reuse/reinvent the chandelier?
Oh, and Happy Earth Day.